CANDY BAR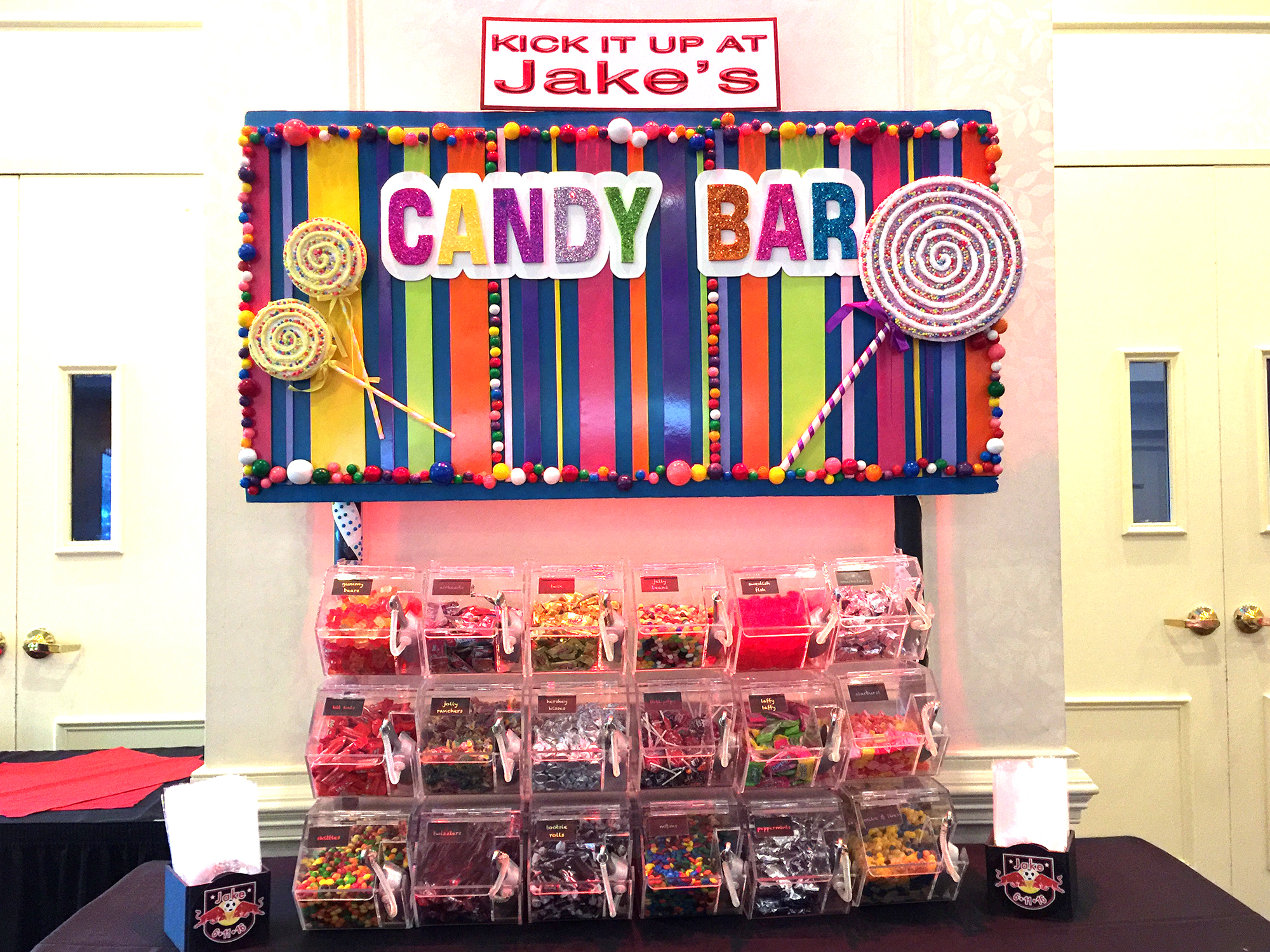 Why go to the candy store when we can bring the candy store to you? We have put together a fun and exciting way for your guests to enjoy candy at your party! Picture an actual candy store display, complete with stackable bins and scoops. Customize our fun and colorful Candy Bar sign with your name. Select from a long list of standard candies, or pick your own colors and/or themed candy. Or, change it up and make it a Popcorn Bar! For alternative candy table options, see below.
Candy Bar includes rental of candy bar display, 18 bins (3 rows of 6) filled with your choice of standard candy listed below, scoops, decorative "Candy Bar" sign, "chalkboard" tags to name each candy bin, clear cell bags with personalized labels (i.e. "Jenna's Candy Bar"), delivery, setup, and pickup at end of party. 
Price: $1295.00
SECURITY DEPOSIT
We require a $300 security deposit to allow for any damages to the candy bar display; deposit will be returned in full at end of party providing candy display is in original condition.
EXTRAS
• Substitute clear cell bags with Chinese takeout boxes, clear pails with tin lids, acrylic candy bins, or sweet treat boxes: price TBD
• Add baked goods (chocolate-covered Oreos, chocolate-covered pretzels, chocolate grahams, macaroons, chocolate lollipops, etc. with personalization, logo, or theme): $2.00/person with a minimum of 125/175/225 depending on candy bar package.
• Themed candy tables available – please inquire for options and pricing.
CANDY OPTIONS
JELLY BEANS
SOUR PATCH KIDS
GUMMY WORMS
SWEDISH FISH
SMARTIES
SOUR PEACHES
SKITTLES
MINI CANDY BARS
M&MS
PEANUT M&MS
GUMBALLS
BUBBLE GUM
MINI TOOTSIE POPS
TAFFY
STARBURST
TOOTSIE ROLLS
MIKE & IKES
LICORICE WHEELS
TWIZZLERS
PEPPERMINT PATTIES
REESES PIECES
FIREBALLS
CHOCOLATE KISSES
PEANUT BUTTER CUPS
POPCORN OPTIONS
CHEDDAR
WHITE JALAPENO CHEDDAR